New Google Adwords Features Boost Your Business
Google just released new Google Adwords features for advertising that they say are proven to increase click-through rates. That means more traffic for you at less cost. This article explains in detail how you can leverage these features to pump up your Adwords campaign.
New Google Adwords Features are:
Expanded Text Ads
Responsive Display Ads
Device Specific Bid Adjustments
Price Extensions
Expanded Text Ads
Google has expanded their traditional text ads. Traditionally, it was pretty difficult to fit any kind of features and benefits into text ads in a meaningful way, especially for complex products and services. Google has addressed this by allowing almost 50% more text in your ads, plus they are more mobile friendly and appear on your devices better.

Google estimates up to 20% increase in click-through rates as compared with the current layout!
Responsive Display Ads
Google has revamped their display ads as well. They are now responsive for mobile. Both the pictures and text resize depending on the screen. The key benefit here is it allows you to fit more text in along with your pictures.
 
Old Ads
New Responsive Ads
Headlines
1 Headline: 25 characters
2 Headlines: 25 character short, 90 character long.
Descriptions
2 Descriptions: 35 Characters each
1 Description up to 90 characters
Advertiser Name
None
25 Characters
Final URL
Visual URL
Domain name from final URL
Log
None
Optional

Aspect 1:1

Min size 128×128

Recommended: 1200×1200
Device Specific Bid Adjustments
Previously you were able to adjust either for desktop or mobile. Now you are also able to adjust for tablets. Depending on the type of product or services you are offering, this can have a significant effect on conversion rates. For example, I typically find for my B2B clients that they get way higher conversion rates on desktop. This makes sense. People looking for B2B products and services are typically at work on a desktop. If you hare like most advertisers and have a limited budget, you would rather choose to spend your advertising budget on desktop vs. mobile or tablet. You can do that by adjusting your bids down on devices that are less likely to produce a conversion (lead).
On the contrary B2C clients typically find better conversion rates on mobile devices (again depending on what they are advertising).
This new bid adjustment category allows the advertiser one more control knob in optimizing their campaigns.
Price Extensions
This is a pretty cool new feature depending on what you're advertising. In my business, I can now advertise prices for specific services which are available for purchase in my online shop. This can be a great way to drive qualified traffic to your site.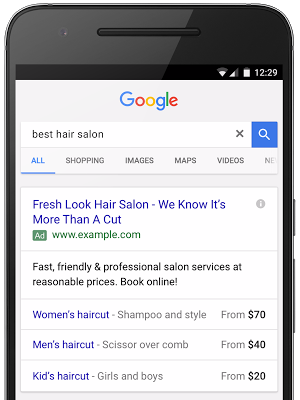 How to take advantage of these new features?
iGo Sales and Marketing is here to help. We are a Google Partners Agency trusted by Google to help you set up your advertising campaigns. If you are a current client and have a monthly Adwords plan with iGo Sales and Marketing, not to worry, we are already looking at ways to implement these new features for your campaigns.
If you'd like a free consultation on how to use Google Adwords to grow your business please contact us today.
[maxbutton id="7″]
About Author