Complete Web & Digital Marketing Solutions
A Digital Marketing Agency with Easy, one-stop shop, complete web marketing solutions.
Digital Marketing Agency Signature Solution
We're a  Digital Marketing Agency with a plan.  Easy, one-stop shop, complete web marketing solutions is part of our Signature Solution.  Unlike many other marketing agencies we are not trying to sell you a specific product.  While we offer SEO, Pay Per Click Marketing, Web Design, CRM and Marketing Automation, it's not just one thing that will generate leads and business from your website, its leveraging the right tools for the right prospects, at the right time.  Many clients start by looking for an "eye catching website".  However, that alone won't get you the results you want.  What you need is a STRATEGY.  A strategy that leverages all of the components to drive leads to your website, convert them to leads, then manage them through and automated marketing funnel and finally, to deliver sales ready leads to your sales team.
Our Digital Marketing Process
Our Signature Digital Marketing Solution
Our process is simple.  We start with a Discovery Workshop.  This is at least a 2 hour session with you and your team, along with our Discovery Workbook to help you (and us!) dial in on the perfect digital strategy for your business.  Out of the Discovery Workshop we may recommend a specific keyword strategy, a website redesign, pay per click marketing funnel, marketing automation or sales automation, or all of the above!  A successful digital marketing strategy starts with search and ends with a booked client.  iGo Sales and Marketing is a Digital Marketing Agency that will help you navigate from origin to destination.
Step 1: ATTRACT -Drive Traffic to your Website
The first step in the strategy is to figure out a plan to get traffic to your site.  It's not all about "being #1 on Google".  Organic search is just one channel that sends traffic to your website.  Here at iGo Sales and Marketing we take a holistic approach to your web traffic.  We define the type of customer you are looking for, then figure out the best way to reach them and get them to arrive on your website.  This may include pay per click marketing, Google Ads, Meta Ads or social media.
Stage 2:  CAPTURE – Convert Web Traffic to Leads
Your website then must be designed in such a way to convert that traffic to a lead.  Few people, especially in B2B marketing "buy now".  Most leads that arrive on your website are in the investigatory stage and need information.  You can smartly exchange that information for their contact information.  Once you have have their contact information, you are now in control.  You can send them as much information as you like.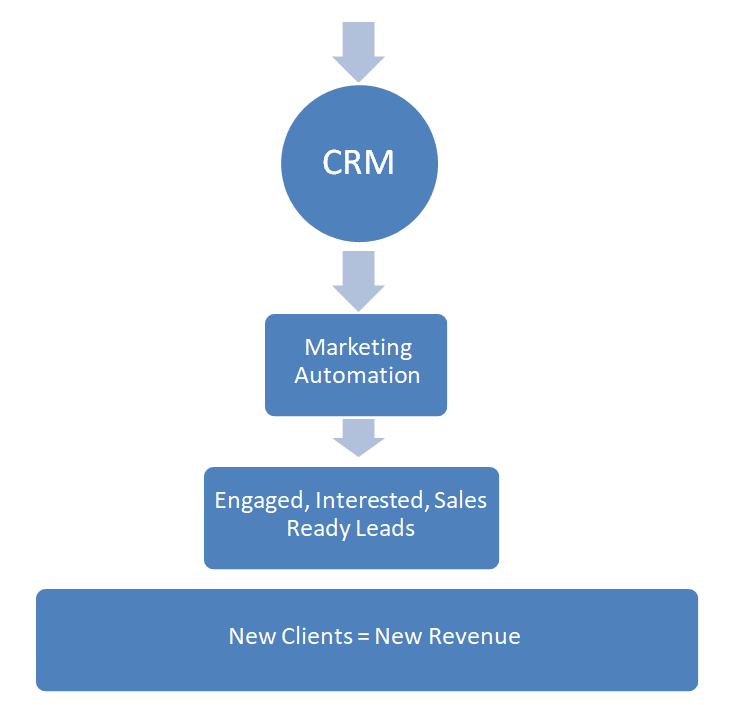 Stage 3: IDENTIFY – Nurture & Identify Sales Ready Leads
The second part of our Digital Marketing process (and the most important!) is what to do with the leads you generate from your website.  Many clients pay for advertising, SEO and Digital Marketing and then when a lead comes in they call or email them and say, "Oh, bad leads, they we're interested".  While not every lead is "perfect" people enter your sales funnel at different times in the buying cycle.  Some are very early in the investigative stage and are not ready for a sales call.  This is where lead nurturing comes in.  The lead goes into your CRM where they are tracked, scored and sent a timed series of emails.  If, and when the prospect is ready to buy, the emails are designed with calls to action that allows the prospect self identify as ready for a sales call.  No more wasted time calling prospects who aren't interested!  By looking at your CRM you'll immediately be able to leverage lead scoring to know exactly who your most engaged prospects are by looking at their lead score.  No more guessing.
Stage 4: CLOSE – Convert Leads Into Clients
Once a potential client has self identified as ready to buy, you're almost there, but not quite.  You need a system to track and opportunity through the buying cycle all the way to close.  This is where a CRM comes in.  iGo Sales and Marketing helps you install, configure and optimize a CRM to manage your sales process to increase close rates and visibility of opportunities in the funnel
iGo Sales and Marketing will help you put together  a complete marketing system.  All you have to do is contact us.
Benefits of Our Signature Digital Marketing Solution
Just so you know what you're doing is working. We got a bulk load last Friday from a new customer. A $12k sale directly from finding us on the web with a $6B customer that we had no previous contact with. What a great testimonial to the effectiveness of SEO.

Excellent Job!!  ...totally happy with it.  Again, thanks for everything and I will use you again once I rebrand my store.
I highly recommend iGoSales And Marketing for your marketing/website needs. Web developer, Paul Stevens, accepted the challenge of redesigning a website that wasn't working for me. Paul brought his marketing skills and his own vision to design a website that is all it can be.

(more…)

I can't believe that people are literally seeking us out every single day. I have received a call every day for the last 10 days with people that want blacksmithing work.  I've had to hire a general manager just to keep up with all the requests.