How to Save $40,000 in CRM Fees
CRM Software can be expensive. Many commercial CRM's bill by the user and have large add on fees for additional features. I helped my client save $40,000 in fees to their CRM software provider by migrating their CRM from Salesforce to a free Open Source CRM called SuiteCRM.
Background
My client has about a dozen or so users, plus they use quite a number of custom fields and workflows. The problem is that every time they wanted an additional field added it bumped them to a higher cost tier. Their monthly fees grew to the point of $40,000 per year! While the company is profitable and making money, $40,000 per year just for CRM software was a huge burden. Plus, as they grow fees are just going to sky rocket as they add new reps and their demands for new custom fields and other CRM features grow.
Solution
I recommended they switch to SuiteCRM.  SuiteCRM is a free and open source software that you install on your own server. There are no limits. You can add as many users as you like. Plus, you can take advantage of all the premium features without paying up charges. As you grow, there is no additional cost for adding more users.
It's a great solution and saved them $40,000 per year.
The only cost involved was my consulting fee to manage the migration project and move the data over from Salesforce to SuiteCRM, which was a fraction of a single year's CRM fees. I provided training for the client to manage their own CRM system without the need for ongoing support fees. The only other cost was $50/month for a cloud VPS on which to run SuiteCRM.
All data was seamlessly transferred from Salesforce to SuiteCRM
On-site training for users and administrators was provided
Low cost support options to maintain the installation on an ongoing basis
There is some additional work required
If you're looking for a "catch" well there is a small one. Since it's your "own" CRM hosted on your own server, you are responsible for things like doing backups and supporting your users. For this particular client, this was not an issue as they have an established IT department and their need for support was quite low. For this solution to work for you, you do need to have some IT capability to be able to manage the security, backups and support. With free Open Source software, there is no support hotline, you need to be able to have a support person on site to be able to solve any issues that may arise. Having said that, SuiteCRM has been around (previously SugarCRM CE) for more than an decade. It's quite a mature product with active development and user community to help you solve issues.
Of course, iGo Sales and Marketing can provide these SuiteCRM support activities for a low cost in comparison to your previous CRM fees.
What Else is Included in SuiteCRM?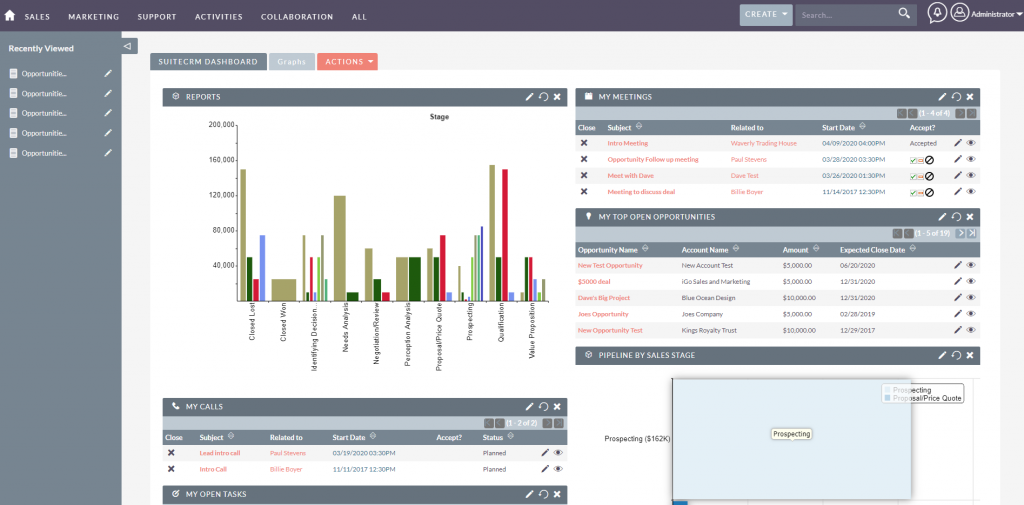 In addition to the basic modules that Salesforce users are used to, SuiteCRM comes with many features in addition to sales management which make it a true CRM suite.
Project Management module
Bug Tracking module
Case Support Tracking module
Quotes/Invoices
Email Marketing (Campaigns Module)
Workflow (a sales and marketing automation module)
Plus.. module builder, an easy way to create your own custom modules
Conclusion
There are huge savings to be had in using Open Source software like SuiteCRM vs. Salesforce or other expensive CRM products. A little effort is involved up front to work through the migration and some ongoing support from your IT department may be necessary, but the payback in terms of savings is typically less than two month's CRM fees! That's a pretty good return on investment!
If you'd like me to help you save your CRM fees, contact me.  iGo Sales and Marketing provides SuiteCRM Consulting Services.
About Author