Have you ever got an email urging you to renew your website's domain name immediately?  How do you know if it's legit or a domain name scam?  Here's what you need to know.
I get clients sending me emails all the time asking if they should pay the invoice.  Hopefully, by reading this article you'll be able to recognize domain name scams for yourself.
Domain Name Scams
If you've received an email telling you your domain name is about to expire and to renew it now by paying by your credit card you've probably seen this scam.  So many businesses don't really understand what's going on here and just pass it along to accounts payable.  Stop getting scammed!  These people are either trying to make a quick buck or worse, get your credit card number to sell on the black market.
For further information you can check out the wikipedia article
How Domain Name Scams Work
All the information about your domain name is public including your business name, email address,  contact info AND the expiry of your domain.  This information can be crawled and scraped by an automated web bot, generating a list of potential victims for a domain name scam.  Basically, they email out a letter that scares business owners that they may lose their domain name if they don't pay now.  It's surprising how many people just pay these things.  Here's what a typical scam email looks like. I just got one from one of my clients today.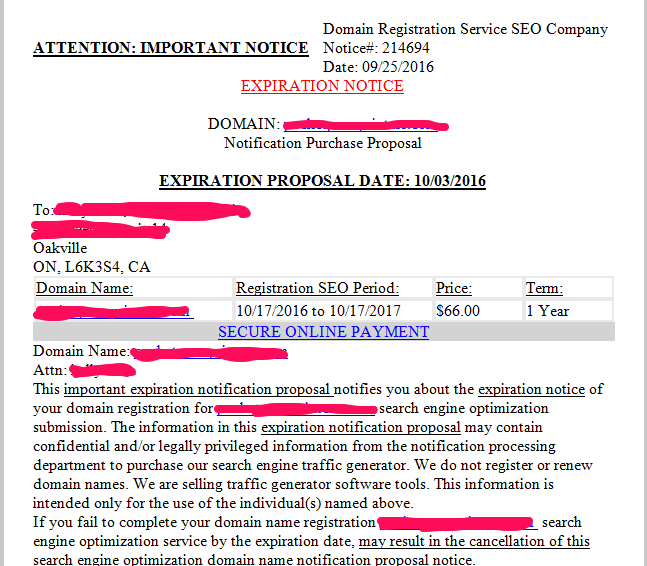 How do you know if you REALLY have to renew your domain name?
Every domain name has to be "registered" by a "registrar".  Basically, these companies charge a fee to host a record on the internet that tells web browsers that www.mysite.com is found at ip address 195.45.xx.xx.  That's it!  That's all your domain name registration really does.  Typically, somewhere around $10-$20/year is a reasonable price to pay.  However, if you are buying a popular domain name that someone is reselling, depending on how good it is, the sky is the limit!
You can find your current registrar and your domain expiry by doing a WHOIS lookup.  This is the public information about your domain name.  It can be found at:
Just search your record and you will find something like this: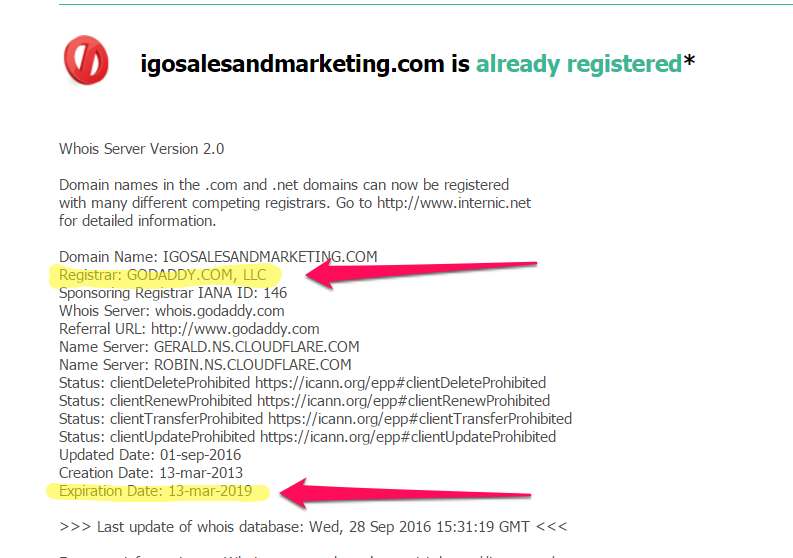 You can see your registrar and your expiry date.  The only person you should be paying for renewal is your registrar on or before the expiry date.
What Happens if I Don't renew my Domain Name
If you don't renew your domain name by the expiry date, then it goes back on the open market.  If you're lucky, you can buy it again.  If you're unlucky, someone else will buy it and either not want to sell it back to you, or try to blackmail you by holding it ransom for an unreasonable amount of money.
Your domain name is a key branding asset of your company.  Unfortunately, many companies don't have this organized properly and rarely know who has the registration or what the login and password are to manage it.  Get your domain name under control.  If you need help, iGo Sales and Marketing can help you with this process.  We also offer domain name registration services on our site.
If you register with iGo Sales and Marketing for both a domain name and hosting for 12 months, we'll help you set it up and transfer your existing domain name into your new account.  Let us know if you need help.  We offer:
Domain Names
Hosting
Email Hosting
Private Servers
Secure SSL Certificates
http://shop.igosalesandmarketing.com/
[maxbutton id="14″]
[maxbutton id="13″]